Why Pre-Order?
1. Due to Halo Scrubs being a small business, we don't stock huge amounts of inventory. Pre-orders will allow you to secure your size and color early on before it sells out.
2. The first 100 customers to place a pre-order will receive a FREE Sway canvas tote.
3. The pre-order system allows us to better forecast which leads to less environmental waste. It also helps lower financial costs which means we can continue to make scrubs that you love.
The Basics:
1. We will offer colors grey, orange pink, mauve, light pink, and black in S-L(we extended our sizes for this style!)
2. Your credit card will be charged at the time of purchase. (This was the most effective way to set up pre-orders on our website).
3. Estimated delivery date is November 2020. We will provide 100% transparency throughout the Pre-order process.
We understand that this system might not be for everyone, but if you have a little patience we think it's a win-win solution!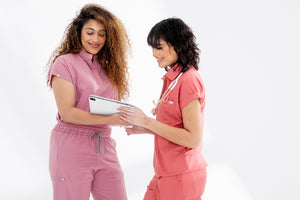 Our Mission
We offer a high-end collection of innovative medical apparel, with quality that shines through every seam. Our sophisticated line of unique scrub designs, that fuses modern fashion with function, will empower medical professionals to stand out among their peers. Our goal is to remind you of how incredible you are, lifting your spirits and bringing light to your patients and peers while maintaining your comfort throughout those long and painstaking shifts.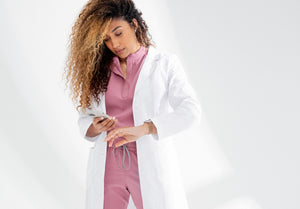 Our Story
Halo Scrubs is more than a uniform. We empower all medical professionals to channel their inner-Angel to the world. Just because you're saving lives and not working in some corporate office, doesn't mean you don't deserve to feel beautiful and confident while celebrating the incredible work you do. As a Registered Nurse and Research Professional, our founder, Christle Wanorue, was always bothered by the basic nature of medical scrubs – not to mention the outdated and boring designs out there. And so, after over a decade working in the industry, she decided to launch Halo Scrubs, a sophisticated line of unique, modern medical apparel. She believes every medical professional deserves to feel cool and comfortable on-the-job, while standing out in an industry where style has never been a priority.

To all Healthcare heroes...You deserve a Halo!
FUNCTIONALITY
Enjoy exceptional quality fabrics built to last, and will keep you comfortable throughout those double shifts while you focus on saving lives.
MODERN
Halo scrubs is when modern fashion and function meet in Healthcare. Our sophisticated line of medical apparel features truly innovative designs that complement all body structure.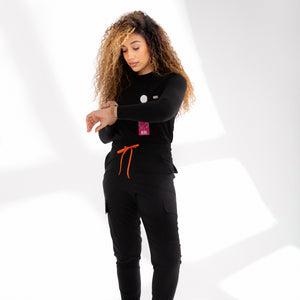 DIVERSITY
Halo Scrubs embraces all races, gender identities, and physiques. We insist on a culture of respect and recognize our differences make us stronger.
EMPOWERING
We empower medical professionals to exhibit confidence while bringing love and light to your patients and peers.